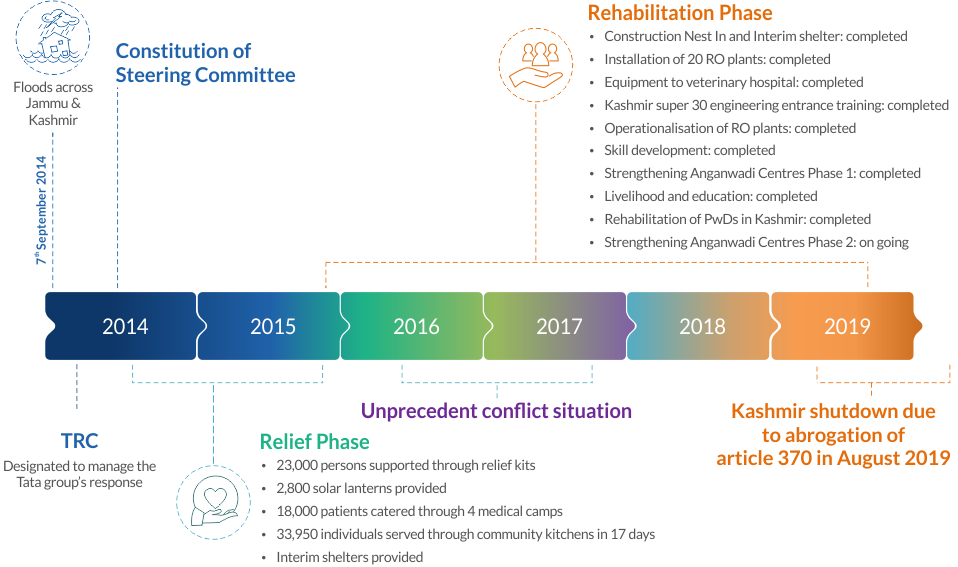 In September 2014, the Kashmir region suffered disastrous floods across many of its districts caused by torrential rainfall. In response to the devastating floods that affected Jammu & Kashmir in 2014, the Tata group set up a Relief Unit in the state to provide urgently needed humanitarian assistance to displaced families and provided companies support, in kind, through Swach filters, solar power lamps and more. Amidst intermittent rainfall that threatened to arrest all rescue and relief operations the One Tata Response continued to plough through all odds. The group also supported rehabilitation projects, including safe water provision in 20 affected villages, setting up of training centres, one of which was set up in collaboration with the army in Uri, Baramulla, as well as renovating the veterinary hospital rooms in Srinagar.
Four projects on development of early childcare and education centres, livelihood and education, rehabilitation of persons with disability have been completed in Baramulla, Pulwama and South & North Kashmir respectively.
In Baramulla, the strengthening Anganwadi centres project covers 60 Anganwadi centres, which over the course of the project has turned 44 centres into model centres, where the Anganwadi workers are highly motivated. The average attendance rate went up to 72.45% as compared to the baseline average of 0.72%. Phase II of this project has been initiated through the programme.
The livelihood and education project in Pulwama district that covered 20 villages, has benefitted approximately 755 students through the setting up of computer and science laboratories. The Chief Education Officer of the district assigned computer teachers to these schools and gathers fortnightly progress reports. Over 110 families have started benefitting from the livelihood interventions being carried out in these villages as well.
Under the project titled 'Rehabilitation of PWDs in Kashmir' 76 beneficiaries were provided with livelihood support and 33 were beneficiated by providing medical aids like wheelchairs and hearing aid.
IMPACT STORY
Ghulam Mohiuddin Wani
68-year-old Ghulam Mohiuddin Wani, resides in Kululo, Pulwama with his wife and 5 daughters. He worked as a labourer for years before his health deteriorated and was unable to provide income for his family. He soon began collecting donations from his neighbours to meet their family's expenses.
The Village Development Committee (VDC) set up through the project, identified his family to be suitable for the livelihood option of dairy farming and was given a cow. With an average of 8 litres of milk per day, his family now earns about INR 4,500 per month and uses the cow dung for his land as manure.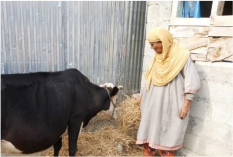 Ghulam Wani's family benefitting with the livelihood option of dairy farming that was provided as a part of disaster response programme.
IMPACT STORY
Manzoor Ahmad
"It makes me happy that I am now less dependent on others. This motorized wheelchair lets me get around in the village and makes me feel like any other person. I am confident that I will be able to re-start my business now, given that mobility will not be such an issue now" says Manzoor Ahmad
Manzoor Ahmad is one among the 30+ beneficiaries who benefitted with the medical aid, provided as a part of Jammu and Kashmir response programme.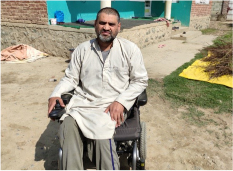 Manzoor Ahmad
Amidst intermittent rainfall that threatened to arrest all rescue and relief operations, Tata group continued to plough through all odds, to aid those affected by devastating floods in Jammu & Kashmir in 2014.
To know more, watch the video here
<< back to Disaster Response page