The Tata Sustainability Conclave (TSC) is an annual get together of sustainability professionals from across the Tata group, and others whose functions have sustainability implications. The TSC is organised with the intent of staying ahead of the curve in addressing the sustainability challenges of the present and future by discussing emerging sustainability trends, disseminating learning, enabling debate, sharing experiences and celebrating success.
Tata Sustainability Conclave 2019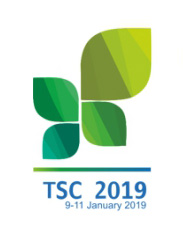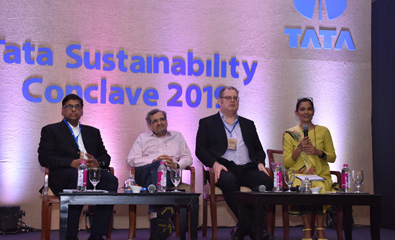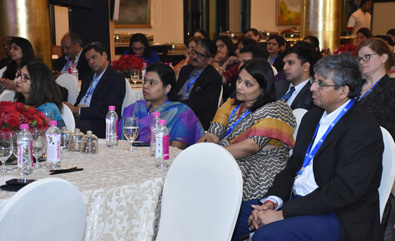 We live in interesting times! The world is changing at a pace that defies description, so quickly that we have 'not yet had time to be astonished'. It was to discuss this dynamic global landscape, and the challenge of ensuring business sustainability in the evolving operating context, that over 170 participants converged for three days at the Tata Sustainability Conclave 2019.
The 2019 conclave took place from 9th to 11th January at the Taj Mahal Palace Colaba, Mumbai, and saw participation of global sustainability experts, sustainability leaders of Tata companies and CEOs and senior leaders from across the Tata group. The conclave was divided into three parts; plenary sessions, technical sessions and field visits.
Day 1
On the first day, field visits were organized to Rallis' Model Tribal Village programme at Kalampada, Tata Power's Walwhan Conservation programme at Lonavala, TCS's efforts to conserve and promote biodiversity in an urban set-up at Yantra Park, Tata STRIVE's world-class skill development centre at Airoli and Door Step School's education interventions in the slums of Mankhurd. The field visits enabled participants to gain an exposure to the practical aspects of implementing sustainability initiatives, both within factory compounds and outside among communities.
Day 2
The plenary day comprised discussions ranging from sustainability risks governance and environmental stewardship to creating social impact; with external experts and Tata group leaders sharing their experiences and best practices.
The keynote address by Lord Adair Turner, a world-renowned expert on global economic trends and the Chairperson of the Energy Transitions Commission which aims to help the world limit global warming to below 2° Celsius, was titled "Mission Possible – Achieving Net ZERO emissions by 2060". The address emphasized how circular economy, new materials, renewable & nuclear energy and carbon capture can help businesses achieve net zero emissions.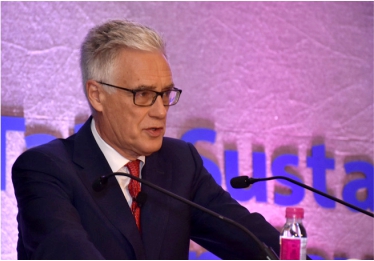 Addressing the audience as keynote speaker at the TSC 2019, Lord Adair Turner, Chairperson, Energy Transitions Commission and the Institute of New Economic Thinking
Mr. Padmanabhan - Head Sustainability and Executive Chairman, Tata Business Excellence Group (TBExG) re-emphasized the Tata approach to sustainability, highlighting the Tata Sustainability Policy and the sustainability governance structure. He spoke about the group's focus on the five core themes of Carbon, Water, Waste, CSR and Volunteering, and the need to strengthen capabilities in emerging themes such as Supply Chain Sustainability, Natural and Social Capital Valuation, Business and Human Rights and Circular Economy.

L-R: Mr. R. Mukundan, MD & CEO, Tata Chemicals; Mr. T. V. Narendran, MD & CEO, Tata Steel; Mr. Banmali Agrawala, President, Infrastructure & Aerospace & Defence, Tata Sons; Ms. Roopa Purushothaman, Chief Economist and Head of Policy Advocacy, Tata Sons; and Mr. S. Padmanabhan, Executive Chairman, TBExG
One of the highlights of the event was a scintillating session with Tata group leaders where Mr. R. Mukundan, Mr. T. V. Narendran, Mr. Banmali Agrawala and Ms. Roopa Purushothaman were quizzed by Mr. S. Padmanabhan on the challenges and importance of integrating long term thinking into business in a volatile operating context.
The day concluded with the awards ceremony recognising winners of the Tata Volunteering Weeks 9 and 10, followed by a highly anticipated vote of thanks.
Day 3
The last day of the conference focussed on mini-technical sessions on the subjects of integrating ESG risks into ERM, supply chain sustainability, valuing and integrating externalities, Integrated Reporting, IT for strengthening CSR and understanding heritage from a CSR perspective. The technical sessions ran full-house and were highly appreciated by the participants.
| | | |
| --- | --- | --- |
| Agenda | | Photo Gallery |
Tata Sustainability Conclave 2017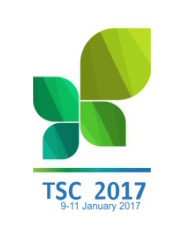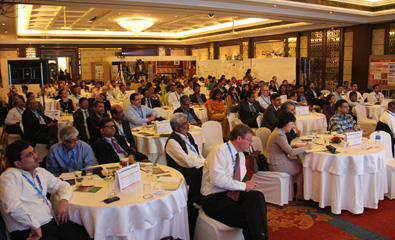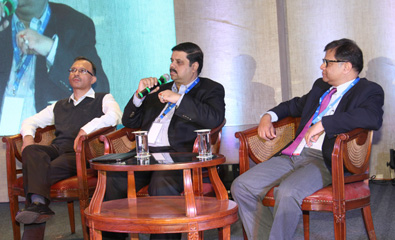 It is increasingly becoming evident that business success will be impacted by a range of social and environmental factors like growing scarcity of natural resources, rising social inequity, climate change and population expansion. Global covenants such as the Sustainable Development Goals and the Paris Climate Agreement provide useful frameworks to mitigate these risks and leverage new opportunities as they arise.
The Tata group has always looked at addressing social and environmental challenges as integral to the way it does business, and been ahead of the curve. The foundation for a sustainable future is set out at the group level through the Tata Global Sustainability Council and the Tata Sustainability Policy, which are effectively complemented by the efforts of each Tata company. The next frontier, however, is moving our sustainability efforts from policy to practice and future proofing our businesses through effective sustainability implementation.
The theme of Tata Sustainability Conclave 2017 is 'Future-proofing Business: Moving from Policy to Practice' and will aim to disseminate learning, enable debate and share practice so that Tata companies translate these global and group frameworks into effective action.
| | | |
| --- | --- | --- |
| Agenda | | Photo Gallery |
Tata Sustainability Conclave 2016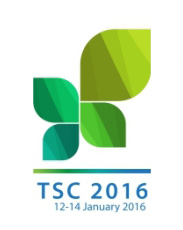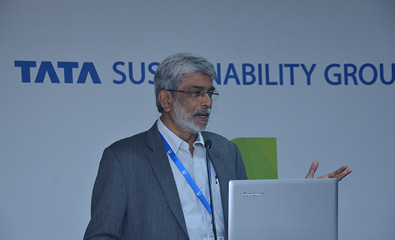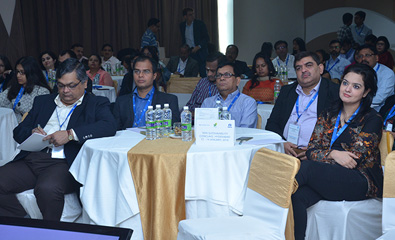 For the Tata group, social and human development is a core activity, inspired by our founder Mr Jamsetji Tata who once said that "communities are not just another stakeholder in business but is in fact the very purpose of its existence". The Sustainability Conclave for the Tata group, held from 12th to 14th January 2016, looked at recent global trends impacting us such as the Sustainable Development Goals and the COP21 in Paris.
The conference attracted close to 100 participants representing diverse Tata companies, including senior leadership and members from different regions such as Europe, Africa, the Middle East and the US and Far East. The three-day conference - 12th to 14th January in Hyderabad - also had speakers sharing good practices in sustainability from the Tata group companies, Tata Trusts and from external experts. A series of mini-workshops, field visits and an award ceremony recognising winners of Tata Volunteering Weeks and Tata Sustainability Month were the other highlights.
| | | |
| --- | --- | --- |
| Agenda | | Photo Gallery |
Tata CSR Retreat 2015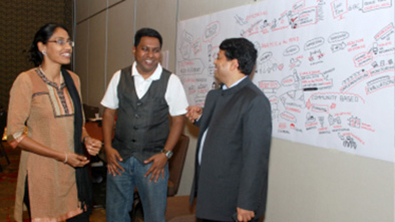 Tata Sustainability Group organised a CSR Retreat in Pune from 21st to 23rd January. More than 80 participants from Tata group companies shared good practices and innovative products, visited the field to learn from NGOs implementing various community development initiatives, brainstormed on key CSR related issues for the group and participated in learning sessions including strategy, monitoring and evaluation, volunteering, among others. Dr. Mukund Rajan, GEC Member, Brand Custodian and Chief Ethics Officer inaugurated the retreat. Dr. Gopichand Katragadda, Group Chief Technology Officer and several external speakers including Dr. Amitava Mukherjee, Advisor to Government of India, Dr. Aromar Revi, Director of the Indian Institute for Human Settlements (IIHS) and Mr. Sudhir Sinha, Advisor CSR and Sustainability, PWC participated in various sessions. Awards for Tata Sustainability Month and Tata Volunteering Week II were handed out by Dr Mukund Rajan and Shankar Venkateswaran, Chief, TSG, to group companies at a gala function that also saw stellar performances by the Tata Motors cultural group - Kalasagar.
Photo Gallery