Our Legacy
For over 150 years, the Tata group has been living its legacy of 'giving back' to the society. The ethos of nation and community building lies deeply rooted in its DNA. The group has earned a reputation for path-breaking initiatives, many well ahead of their time, always placing the interests of community and the environment at the heart of everything it does.
More than a century before the conversation on climate change became mainstream, Jamsetji Tata stressed that care for environment was key to the way we conduct our business and was a proponent of using clean energy to power cities and industry. As early as 1875, he contemplated harnessing the power of water to generate clean, renewable energy that would be available to run the tramways of Mumbai, then Bombay, to supply as much electric lighting as may be required in the city, and also power the cotton mills and small local industries.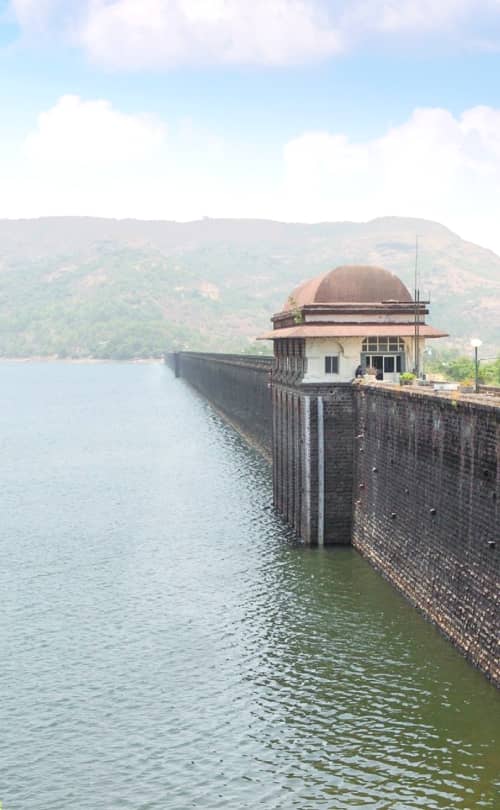 The Walhwan dam opened in 1916, fulfiling Jamsetji Tata's dream of clean power
With growing scientific evidence of climate change in the mid-2000s, the Tata group stepped up its activities to address this challenge. The Tata Climate Change Policy, authored by the then Group Chairman, Mr. Ratan Tata, was adopted in 2009 and required Tata companies to measure their carbon footprint and strive to
Be the benchmark in their industry on the carbon footprint of their operations
Engage actively in climate change advocacy and shaping of regulations in their business sectors
Incorporating 'green ' perspective in all key organisational processes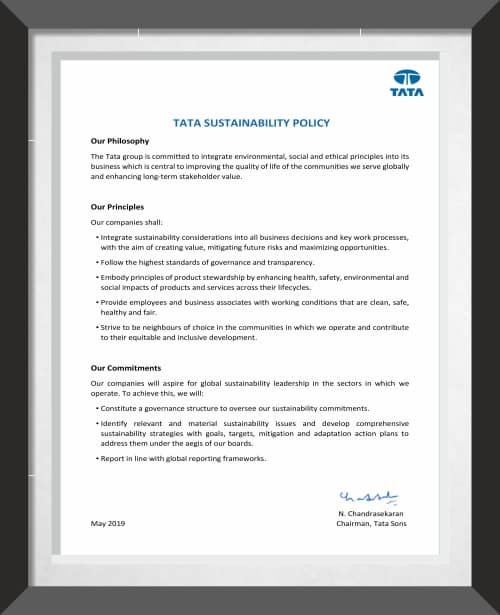 Towards implementing the Tata Climate Change Policy, more than 50 Tata companies underwent carbon footprinting exercises and developed emission mitigation strategies. This led to identification of innovative technologies and business practices that would reduce their carbon footprint. Over the years, Tata companies have been leveraging new business opportunities aligned with carbon mitigation, such as Ultra Low Carbon steelmaking by Tata Steel Europe, carbon capture and reuse technology from flue gases by Tata Chemicals, renewable business of Tata Power, green funding and advisory solutions for clean technologies by Tata Cleantech Capital, and more recently, development of the EV ecosystem in India.
In 2012, the group partnered with the International Finance Corporation (IFC) and the Water Footprint Network (WFN) for water footprint assessments of Tata companies. A number of Tata companies have estimated their water footprint and implemented water management levers like augmentation of water sources through rainwater harvesting, reuse and recycling of treated wastewater, implementation of zero liquid discharge, and working with communities and neighbouring farmers for watershed management.
Building on the Legacy – Project Aalingana
'Embracing the planet, embracing the future.'
Standing firm on this foundation, the Tata group is now poised to embrace the future of the planet with Project Aalingana.
Aalingana, 'embrace' in Sanskrit, embodies the Tata group's vision of protecting the world and building the future through the technologies of tomorrow.
Collaboratively developed with group companies, Aalingana, has been launched with sustainability commitments from seven Tata companies — Tata Steel, Tata Power, Tata Motors, Jaguar Land Rover, Tata Chemicals, Tata Consultancy Services and Tata Consumer Products. In FY22, these companies made up 99% of the group's Scope 1 and Scope 2 emissions, 95% of freshwater use and 99% of solid waste
Aalingana commits to embedding sustainability
into business strategy by focusing on three interconnected pillars
DRIVING
NET-ZERO
Driving the
decarbonisation of our
businesses and value chain
PIONEERING
CIRCULAR ECONOMIES
Applying a systemic, circular
economy approach to reduce
resource use and waste
PRESERVING
NATURE & BIODIVERSITY
One set of rights cannot be enjoyed fully
without the other and the denial of one right
invariably impedes enjoyment of other rights
Aalingana reflects the group's ambition to strive to be a leader in developing and scaling new technologies and solutions that are needed to drive a green transition, by leveraging group synergies to help companies achieve sustainability targets. With Aalingana as a 'One Tata' platform, the impacts that Tata companies have on markets, communities and the value-chain can be maximized.
#Companies covered: Tata Steel, Tata Power, Tata Motors, Jaguar Land Rover, Tata Chemicals, Tata Consultancy Services and Tata Consumer Products
As the Tata group sets bold targets on environmental sustainability, our businesses are not only aligned to India's vision of sustainability and climate change but are also at the forefront of the massive global effort aimed at combating climate change and bringing about more environmentally responsible growth.
The Tata Group's Environmental Stewardship Journey
Postion the mouse on the timeline to pause the animation. Move the mouse outside the timeline area to restart the animation.